VOX-POP is de 'creative space' van de faculteit Geesteswetenschappen, wij zetten ons in om zoveel mogelijk studenten, UvA-medewerkers, alumni en buurtbewoners een podium te bieden. Dit doen wij door het ontwikkelen van onze eigen programmering, maar ook door co-creatie met studieverenigingen, culturele partners of beginnende programmamakers.
Onze ruimte is open en flexibel in te delen waardoor deze geschikt voor veel verschillende programmeringen, van poeziëmiddagen, kunstinstallaties, en huiskamerconcertjes, tot lezingen, filmvertoningen en schilderpractica.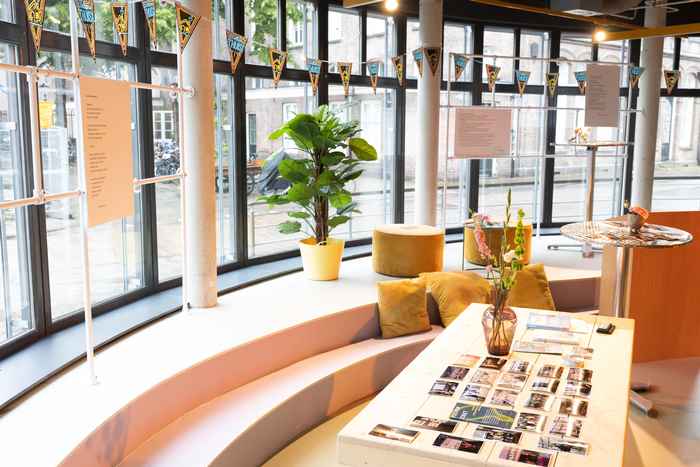 Ben jij een student of alumnus en heb je een origineel idee voor een evenement? Wil jij als docent onze ruimte gebruiken om een onderzoek tot leven te laten komen? Of ben jij die enthousiaste kunstenaar uit de buurt die wil exposeren bij VOX-POP? Stuur ons dan een mailtje als jouw evenement aanvraag voldoet aan de volgende voorwaarden:
Voorwaarden gebruik van VOX-POP:
culturele programmering

connectie met geesteswetenschappen

connectie met de UvA

gratis en publiek toegankelijk voor iedereen
Wacht niet langer en stuur ons je plan op via voxpop@uva.nl. We hebben ongeveer 2 weken nodig om je aanvraag te beoordelen. We lezen graag in je voorstel wat je van plan bent, wanneer (datum/tijd) dit gaat plaatsvinden en waar je van ons (productionele) ondersteuning bij nodig hebt.
In de onderstaande link vind je nog meer informatie over iets organiseren bij VOX-POP, ook vind je hier onze huisregels en ons aanvraagformulier.